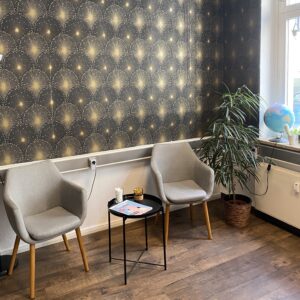 Professional, human and environmentally friendly - perhaps these three words describe us best!
But what is behind them?
Professional:
Our courses are taught by highly competent teachers with many years of teaching experience.
They are not only teachers, but helpers, friends, guides and supporters for the learners.
As the African proverb goes, "If you want to go fast, go alone. If you want to go far, you must go with others."
Together we can go far and master tricky facets of the German language.
In addition, we only use established methods, textbooks and worksheets in our lessons. These were carefully selected or even newly developed and adapted to the needs of the learners.
Human:
Every person is unique. This applies not only to their personality, but also to the way they learn. We value each individual and respond to the needs and wishes of our participants.
We treat everyone like a member of our growing language family!
Our relationships are based on mutual respect, tolerance and acceptance. 
Environmentally friendly:
Personally, we attach great importance to environmental protection and sustainability. Therefore, we also pay attention to the economical and conscious use of all resources at school.
For example, we offer eBooks as an alternative to conventional books and our learners have the option of using all worksheets digitally.
Our whiteboard markers, from edding's EcoLine series, are made from more than 90% recycled materials. When they are empty, we refill them with special pure ethanol-based ink that contains no environmentally harmful additives such as butyl acetate.
In our language school, we use recycled paper every day in various places: whether for worksheets, in the restroom, or for notes during class. No forests are cut down for recycled paper and, above all, no enormously harmful chlorine is used for bleaching.
What comes out of the socket in the accént language school is pure nature! Our LED lamps light up, our computers calculate, our coffee machine cooks with green electricity. 
Here you can contact us
Request
Comments
Feedback
write